Following the daylight murder of a man in Mirema on Monday afternoon, detectives based at DCI's Corporate Communications & Public Affairs Unit have been combing DCI's criminal database to find out out who the man was.
The deceased identified as Samuel Mugoh Muvota, began his trade in 2011 by hanging around city ATM's and offering to assist customers who had difficulties withdrawing money from their accounts.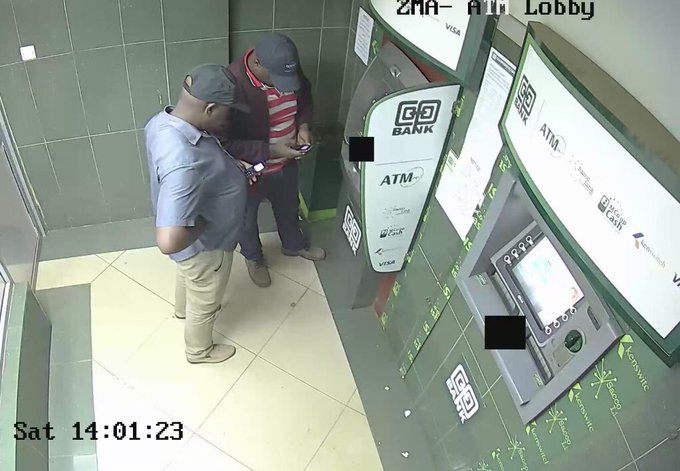 Working with crooked banking officials who would jam the teller machines once a client inserted his ATM card, Muvota would approach the client offering to assist. He would insert the clients' card then pretend to be facing away and ask the client to key in his password and first confirm the balance before withdrawing the amount they wished.
However, since the machines eject the ATM card first, he would get hold of the card as the unsuspecting client waited for the cash. At this point, Muvota would swap the card with another and hand the happy client a fake card. Woe unto the account holder if the account had a fat balance since Muvota, would then visit different ATM booths withdrawing cash until the accounts were swept clean.
In 2018, at an ATM in Kayole, he transferred Sh 700,000 in a single transaction from an account of a woman he was assisting through Pesalink, to one of his fraudulent accounts, leaving a balance of only Sh 700. The woman had walked to the ATM booth to check whether a loan she had applied at the bank had been deposited in her account when she met Muvota. When she learnt of what had happened, she collapsed and died.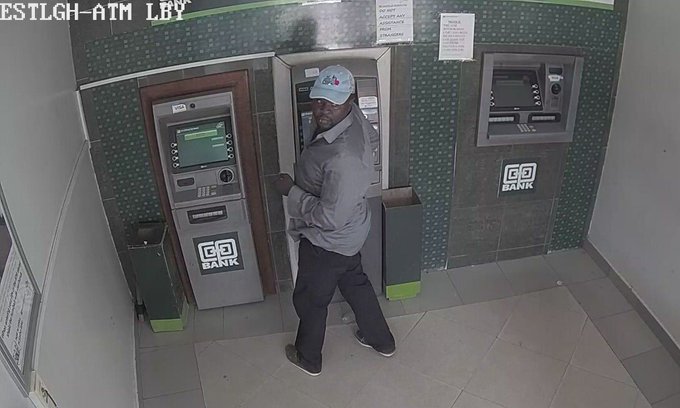 Graduating to mchele gang
Muvota after stealing enough money from ATMs graduated to the drugging business. He is said to have hired 50 beautiful, expensive-looking women. And deployed them as drinks spiking agents at various high end entertainment spots.
The women targeted moneyed men in the hope of a happy ending. But the men ended up drugged and some were found by their families naked wearing condoms, while inside their cars outside the gates to their homes.
The drug they used is given to mentally unstable patients at Mathare mental hospital. It is known in the mchele world as 'Tamuu' is categorized into four. Tamuu red, tamuu green, tamuu white and tamuu blue. The drug was administered in doses, depending on one's immunity. Men with high blood pressure would not wake up after the first dose.
If a man was very careful with his drink, the ladies would offer him an energy drink claiming that he was too drunk and not up to the task ahead. This would be followed by soft smooches that that would stupefy the man in minutes. In case that trick failed to work, hey would escort a man (if he was single) to his house and prepare coffee or scrambled eggs, for the man to eat. the man would later wake up empty.
However, none of the men who reported being stupefied remembered being intimate with any of the women. Even those found wearing condoms in their vehicles. The ladies would do it to deter the man from seeking assistance immediately they woke up. The ladies would even disappear with the victim's pair trousers as this gave them time to deliver the stolen items and seep the bank accounts dry.
Death
By the time of his demise, Muvota was operating over 300 registered bank accounts, spread out across three leading banks. He had a fleet of cars among them Nissan Ex-trails, Toyota Fielders, and Honda CRV's. He had several real estate properties scattered across the city, and 7 wives living lavish lifestyles.
Wanted for murder
Detectives are currently searching for one Denis Karani Gachoki, the main suspect behind the daylight murder of Samuel Mugoh Muvota. The armed and dangerous man is suspected to be in possession of a firearm that was snatched from a stupefied Police officer, after a round of drinks at a popular joint in Mombasa, in November, 2020.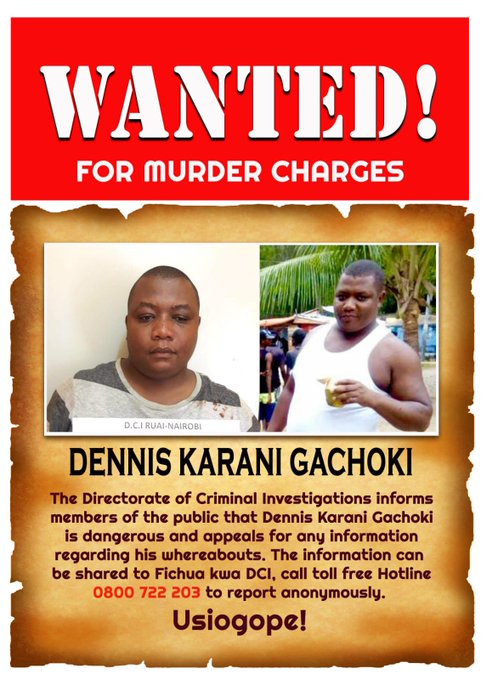 The detectives based at DCI's Comms unit have since gathered that Gachoki, recently fell out with his boss Muvota over sharing of proceeds from their mchele trade. This among other beef are suspected to have led to a bitter fallout leading to Monday's daylight murder of Samuel Mugoh Muvota.
By Wanjiru Mbaru content from DCI twitter account.